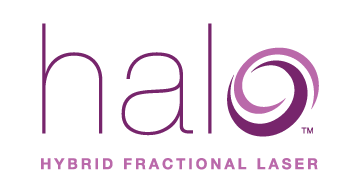 WHAT YOU NEED TO KNOW
Halo™ Pro combines deep dermal rejuvenation with epidermal renewal for a combined synergistic effect you can't get with any other treatment. Halo Pro creates beautiful results without the downtime of more aggressive treatments.
The Halo Pro from Sciton is the world's first hyrbrid fractional laser delivering ablative results with non-ablative downtime and an unprecedented ability to customize treatments. Unlike other laser treatments, Halo Pro allows our providers to control both the level of ablation (how deeply the laser treats the skin) and fractionation (the proximity of treated cells).
Halo Pro precisely targets years of damage to your skin, including: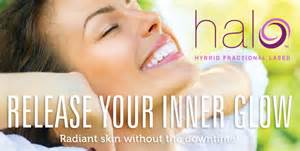 • Discoloration
• Sun damage
• Visible signs of aging
• Uneven skin tone
• Enlarged pores
• Poor texture
• Fine lines
• Scar revision
Ablative laser treatments have long been considered one of the most effective methods for improving aging skin. Ablation removes the outer layers of damaged skin, which triggers the healing process. The healing process increases collagen production and restructure, allowing for the formation of tighter, rejuvenated skin. However, the results come at the cost of lengthy downtime, often 1-2 weeks.
Non-ablative laser treatments are far less invasive with little or no downtime. They work by heating up the outer layers of skin, but not actually removing them. As a result, several treatments are required to achieve optimal results. The reduced downtime has made non-ablative treatments the preferred choice for those who need to resume normal activity right away.
The Halo Pro Hybrid Fractional Laser works by delivering both ablative and non-ablative wavelengths to the same treatment zone. This gives Halo the unique ability to provide separate treatments for the epidermis (the skin surface), which heals quickly, and the dermis (the deeper, collagen layer of skin), which remodels more slowly over time.
AM I A CANDIDATE?
Anyone unhappy with the early signs of aging, areas of dark pigmentation, and uneven skin texture may benefit from the Halo Pro Laser. The ideal patient is in generally good health, understands the laser treatment process, and holds reasonable expectation for results. The Halo can be combined with other invasive and nonsurgical treatments to provide optimal skin rejuvenating results.
WHAT TO EXPECT POST-TREATMENT
Patients can expect redness and mild swelling following a Halo Pro Laser treatment. It is also common for the skin to be tender for several days. Within the first 24 hours, your skin will begin undergoing changes that will last approximately four days. This will include a peeling process and a temporary bronzing appearance. By day three or four your skin will peel, revealing your new skin beneath, but you will continue to see improvement over time. Most patients see the greatest pigmentary improvement in the first two to three weeks. This is followed by a dermal regeneration phase that continues to improve for months.