SkinMedica Illuminize Peel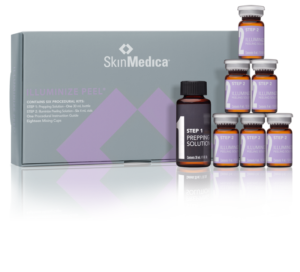 This non-invasive, very superficial chemical peel from SkinMedica increases skin glow and radiance. It utilizes a novel approach to chemical peeling with a newer generation of alpha-hydroxy acids (mandelic acid and malic acid) in combination with phytic acid and commonly used peeling agents (salicylic acid and resorcinol) to maximize skin rejuvenating effects with low irritation.
This peel has no downtime and is a perfect treatment the day before your wedding, prom, or any big event. After this peel your skin will have improved color, clarity, and texture.
Increase skin glow and radiance
Tightens the skin and restores a more youthful appearance
Improves clarity, color and skin texture
Patients achieve enhancement of skin appearance with minimal downtime and discomfort
Appropriate for first-time chemical peel patients or patients looking for a gentle, very superficial peel
May be performed on Skin types I- VI
Little or no visible peeling
SkinMedica Vitalize Peel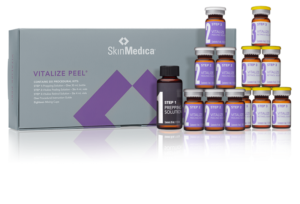 SkinMedica Vitalize Peel helps fight the effects of time, sun damage, and environmental assaults. This powerful yet non-damaging peel can take years off aging skin. This is the perfect peel for patients with mild to moderate skin conditions including fine lines and wrinkles, sun damage, pigment irregularities, and acne.
You will see noticeable results after one peel; significant results after 3 to 6 peels.
Addresses various skin conditions, such as pigmentation abnormalities, post-inflammatory hyperpigmentation, melasma, and photodamage
Effective (achieve visible improvement after one treatment, significant results after a series of treatments)
Can be customized for the treatment of each specific condition
May be performed on Skin types I- VI
Little or no down time
Peeling solution combined with Retinoic acid creates more exfoliation than other chemical peels same depth
Well tolerated (minimum or no burning, peeling solution has pH 2-3, higher than most chemical peels)
SkinMedica Rejuvenize Peel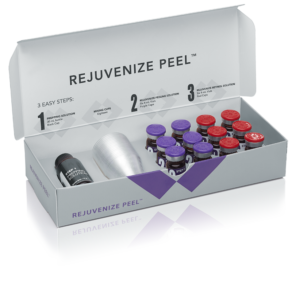 The SkinMedica Rejuvenize Peel penetrates deep into the epidermis and produces the most exfoliation. It uses an advanced formulation of peeling agents, with a built-in anti-irritant and penetration enhancer that provides controlled exfoliation of the uppermost damaged layers of the skin to reveal fresher and healthier skin.
This peel provides predictable results with minimal down time. It is great for patients with moderate to severe sun damage, pigment irregularities, and acne. You will see noticeable results after one peel, significant results after 3 to 6 peels.
Effective for use on skin with sun damage, melasma, pigmentary changes and acne scarring
Noticeable improvement with just one peel
May be performed on Fitzpatrick Skin Types I-VI
Can be used on skin types V-VI after the patient has established tolerability to Vitalize Peel, or with physician consent
Well tolerated with minimal "down time"
Reduces skin irritation associated with the stronger chemical peels without diminishing peeling effect
PCA Light Chemical Peels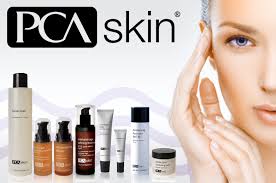 Expertly formulated chemical peels are a driving force in helping you achieve your skincare goals. PCA SKIN® is the leader in chemical peels with more than 25 years formulating the best and most innovative professional treatments in the industry. More than one million PCA SKIN peels are performed globally each year.
There are a myriad of benefits from regular chemical peel treatments. With formulations for all skin types – even those with sensitive skin – PCA SKIN peels improve skin concerns: acne, hyperpigmentation and aging. These challenging skin concerns are improved with our perfected formulas by increasing the skin's cell turnover rate, bringing new skin cells to the surface, reducing signs of fine lines, wrinkles, dark spots and clearing breakouts.
Your Master Esthetician will customize your Peel based on your skin concerns.