Consultation Services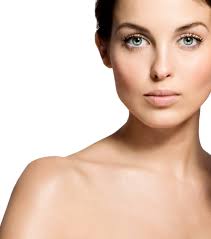 As with all of our procedures, the first step is a comprehensive, confidential consultation with one of our top service providers at Skin Renaissance. During this initial session, we will discuss your skincare needs and answer any questions or concerns.  We will examine your face and neck, review your medical history then move on to the Visia Skin Analysis. With the sheer number of possible treatment options available for any concern, the use of the Visia enables both you and us to see beneath the skin and what's on its way. Educating clients on their options is one of Skin Renaissance's top goals, so we are generous with this Consultation time, seeking to empower you with knowledge and confidence. You should plan on being here for about an hour.
The Visia Skin Analysis 
"An Invaluable Diagnostic Tool"
Our Skin is the largest human organ. It is a complex and wondrous surface that fulfills many functions simultaneously, from protecting us from the elements and dangerous bacteria to shielding our internal organs. It is not an exaggeration to state that our skin is one of the most vital organs we have.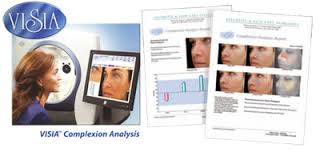 The VISIA Skin Analysis System is a high-tech Photo Booth that provides an easy-to-understand, objective evaluation of your skin. The images and printed report are used as a guide and progress report to help you achieve healthier, younger-looking and more beautiful skin.
The printed report of your VISIA Complexion Analysis includes pictures and very helpful information, including percentile scores and rankings relative to others of your same age, gender and skin type for the following eight categories:
Brown Spots
Red Areas
Pore Size
Porphyrins (bacteria & oil)
Surface Spots
Texture
UV Spots
Wrinkles
The VISIA also gives you a percentile score and rank of your Estimated Skin Age based on the amount of sun damage and skin changes you have compared to other people the same age, gender and skin type. Your skin may look younger on the surface, but there could be significant sun damage lurking underneath from all those summers laying in the sun.
The results of the VISIA Skin Analysis help us select the best treatments, skin care regimen, and skin care products, customized and individualized to treat your skin based on the results of your report and specifically how you would like to improve your skin. Treatments may range from Lasers to possibly Botox and Fillers. The results of these treatments can be maintained by excellent skin care and avoidance of prolonged exposure to the sun.