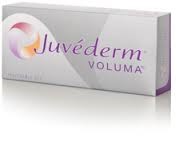 Many people believe that the only sign of an aging face is wrinkles, when in reality, age-related volume loss can cause the face to lose definition, balance and change shape, all of which can make a person appear older than their years.
In October 2013, the FDA approved a new hyaluronic acid dermal filler from Allergan called Juvederm Voluma. This unique filler is manufactured with patented Vycross™ technologythat delivers an instant, yet long-lasting, lift and fill to sunken cheeks and to define the jaw line. It is specifically indicated for age-related volume loss of the mid face that causes the skin to sag and creates a tired and gaunt appearance. Performing volume restoration with Juvederm Voluma gives the face a more youthful contour and a smooth, natural-looking lift without surgery.
Because of her extensive experience with dermal fillers and "mid-face" lifting, Julie Foster, was the first medical professional in Chesapeake to receive the specialized Allergan training and the first to offer Juvederm Voluma to our clients. Like other volumizing fillers, Juvederm Voluma treatments require an advanced injector since the technique is very intricate and an artistic eye is necessary to avoid any complications.  Even though Juvederm Voluma can be dissolved by hyaluronidase if any complications occur, all patients should be treated by an experienced advanced injector who has specific training for this filler.
With Juvederm Voluma, patients look rested and refreshed, never pulled or plastic. The best candidates for Juvederm Voluma are patients in their 30s-60s who want long-lasting restoration to sinking cheeks and central-face aging with a no-downtime treatment.  Call us at 757-410-2833 to schedule your free consultation.
Avoid these medications for at least one week prior to injections: Aspirin or Ibuprofen (unless ordered by your physician- please call for clarification), Fish Oil, Vitamin E, "G" supplements (ginko, ginseng, garlic), St. John's Wort and non-steroidal anti-inflammatory medications like Celebrex, as they may cause thinning of the blood, leading to bruising.